Due to the Fragile nature of our Chocolates and Concern for the Environmental Impacts of Shipping during the higher temperatures. We will Pause Shipping. We plan to resume Shipping sometime in September 2021. Thank you for understanding. Our Lenox Store is still Open..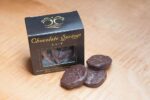 Candied Fiji Ginger – Dark
Candied Fiji Ginger – Dark
$11.50
Bite size pieces of high quality candied Fiji Ginger enrobed in our signature rich dark chocolate.  Delicate, floral ginger flavor. Now packaged in a Box.