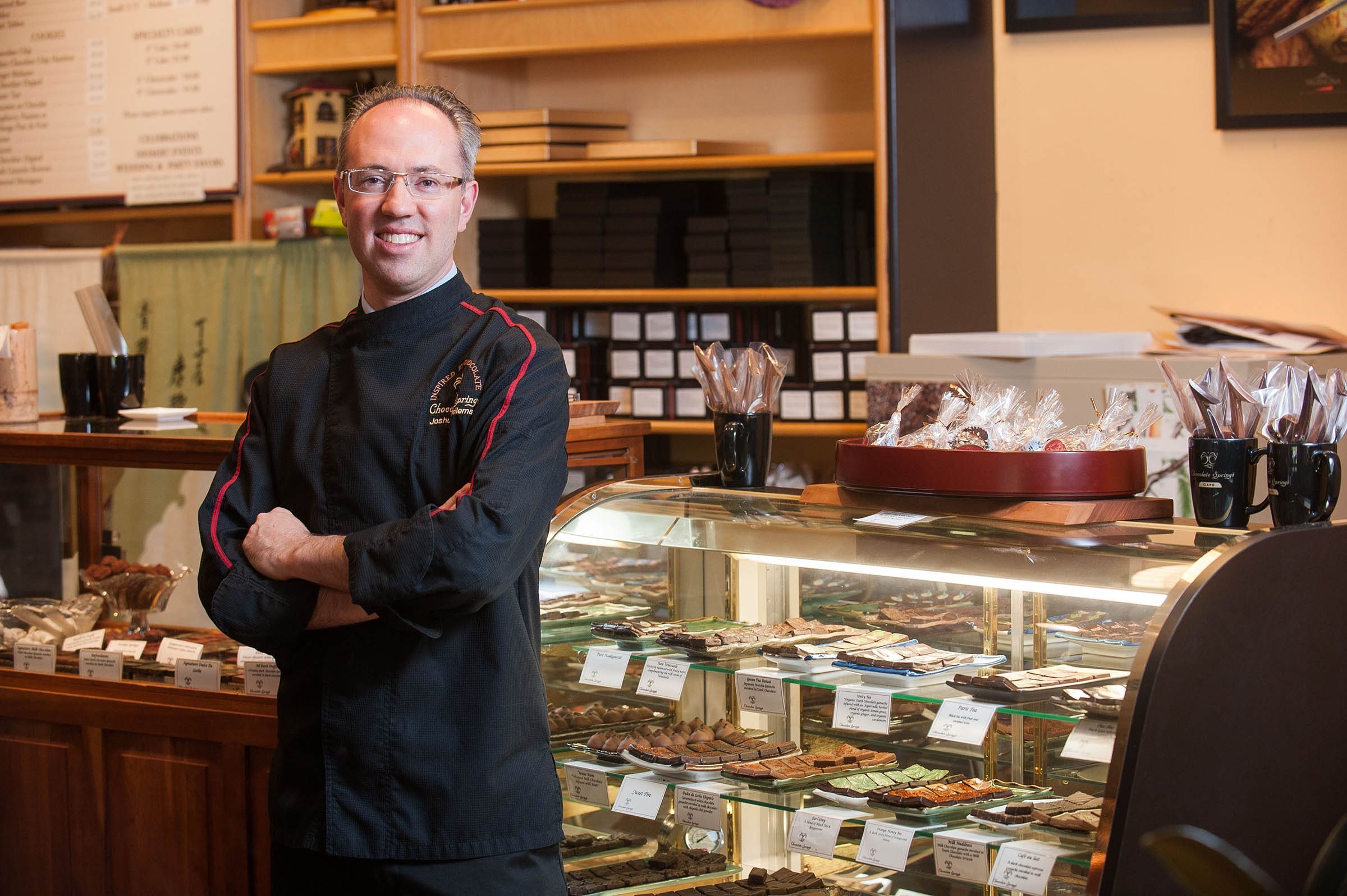 Joshua Needleman and the Story of Chocolate Springs
Joshua Needleman, creator and chocolatier of Chocolate Springs Café, has been fascinated with chocolate all of his life. Joshua is a native of Lebanon Springs, New York: a town that was named for its year-round natural hot water spring that was believed to have therapeutic healing powers by the Native Americans. Ulysses S. Grant and Marquis Lafayette are among the many notable historical figures that made pilgrimages to the Lebanon Springs. The name Chocolate Springs Café pays homage to Joshua's hometown and provides its own modern-day therapeutic escape..
Joshua first entered the culinary field at age sixteen, and established his foundation in discipline and hard work, while working at Shuji's Japanese restaurant, a New Lebanon historic landmark. While working at Shuji's during his high school years, Joshua developed a deep love and appreciation for Japanese culture that inspired an Asian theme for Chocolate Springs Café.
After graduating from the Culinary Institute of America in 1994 with an externship at Canyon Ranch in Tucson, Arizona, Joshua began to refine his skills at the Wheatleigh Hotel in Lenox, Massachusetts. Joshua then relocated to France to explore another culture and learn directly from the French culinary traditions. He was inspired by the artistic beauty and admired the spectacular pastry and chocolate shops. Joshua had the opportunity to work at several prestigious establishments, including a stage with Maitre Chocolatier Michel Chaudun.
Joshua returned to the United States to work again at the Wheatleigh Hotel as well as at Canyon Ranch in the Berkshires and finally as pastry chef at the Cranwell Resort and Spa. He then serendipitously had the great fortune to be offered a job at La Maison du Chocolat in New York City. Joshua moved to New York to work at both their Madison Avenue and Rockefeller Center boutiques. Once again an appreci