Due to the Fragile nature of our Chocolates and Concern for the Environmental Impacts of Shipping during the higher temperatures. We will Pause Shipping. We plan to resume Shipping sometime in September 2021. Thank you for understanding. Our Lenox Store is still Open..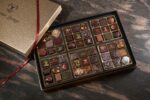 54 Piece Classic Assortment
54 Piece Classic Assortment
$100.00
54 pieces of delicious chocolate. An assortment of dark and milk chocolate.
Our chocolates are made fresh every day. We use only the finest seasonal and organic ingredients whenever possible.  Your assortment will contain our finest selection hand picked by our professional staff – it may not match exactly what you see pictured, but we hope that you will love every one just as much as we do. If you have a particular flavor that you crave, or if you need a special customized box, please call us directly at 413-637-9820 and we will be happy to work with you to fulfill your order.